Division Administration and Planning
The Division Administration and Planning acts primarily in a supporting capacity to the rest of the Ministry of Labour, and comprises the following:

Finance Subdivision
Duties and functions
Payment of all invoices for goods delivered/services rendered and any other costs incurred (e.g. subsistence and travel allowance, overtime payments etc).
Ensuring that treasury instruction, the State Finance Act, (Act no. 31 of 1991) and all other relevant legislation , regulations and prescriptions concerning Government administration are adhered to.
Receiving any revenue/monies paid to Government (e.g. employers' payments, private telephone calls).
Controlling the Ministry's budget by keeping the commitment register (keeping track of expenses as originally budgeted for) and requesting the periodical release of funds from the Ministry of Finance as outlined in the budget that was submitted to Cabinet. A system of a 3-year "rolling budget� was introduced, starting with the 2001/2002 financial year. This will facilitate long term planning as well as continuity in longer (than a year) planning. The total current budget for the 2001/2002 financial year amounts to N$54 158 000 of which a detailed breakdown is available at the ministry.

Auxiliary Services Subdivision
Arranging office accommodation and renovation, and residential accommodation as required.
New Regional Offices were opened at Oshakati, Tsumeb and Luderitz, and another one is planned for Noordoewer (to cater for Skorpion and Rosh Pinah Mines and Aussenkehr Farm)
Renovations at the Head Office are currently under way, the first phase to be completed by Friday, 18 May 2001.
Administration of all aspects of the vehicle fleet of the Ministry, as well as organising air tickets vehicles from the Government Garage. A Stannic Fleet Management has taken over 36 vehicles from the Government Garage. A Stannic Fleet Management system from Standard Bank was introduced, which is running well. Recently 22 new vehicles of various types were acquired which will be allocated in due course.
A transport Policy was introduce and adopted, subject to revision from time to time.
Responsible for all purchases like stationery, office furniture and equipment. This Section is also responsible for asset inventory and –control, annual stocktaking at all offices and maintaining the levels of consumable items. Office Services entails the general daily upkeep of offices and leasing with the maintenance and services of office equipment is also taken care of.
Provides typing and secretarial services, as well as copying and telephone services.

Human Resource Subdivision
Administers the staff establishment of the Ministry, advertising of vacancies, handling of grievances, keeping and updating of all staff records and other staff related matters.
In the establishment, there are a total of 238 funded posts. Of these a 150 are filled whilst 88 are vacant. Computers were installed for a Human Resources Information Management System, which are yet to be linked to a central database at the Office of the Prime Minister. The Ministry currently employs 150 people. In terms of affirmative action the following:
| | | |
| --- | --- | --- |
| | Male | Female |
| Management level | 5 | 4 |
| Below Management level | 62 | 79 |
| | | |
| --- | --- | --- |
| | Advantaged | Disadvantaged |
| Management level | 2 | 7 |
| Below Management level | 4 | 136 |

Training Subdivision
This component arranges for the upgrading of the skills for all staff members like facilitating the attendance of staff members of officially recognised courses offered at tertiary institutions, and at other training fora.
A Training Master Plan was introduces and adopted to provide training guidelines.

Information Technology Subdivision
Plan, organize, direct, control and evaluate the operations of information systems and electronic data processing (EDP). Provide system support to staff member.

 Deputy Director: General Services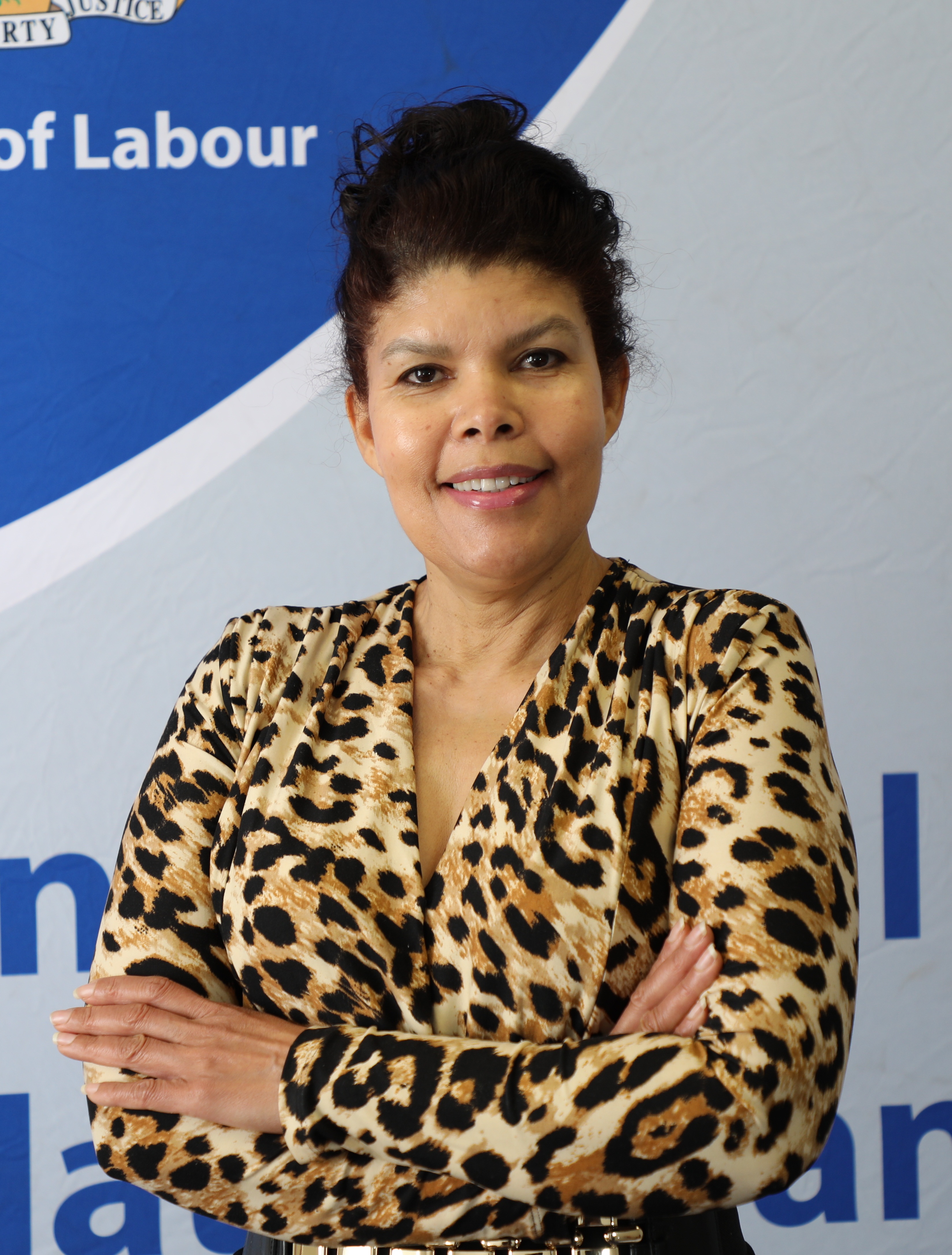 Ms.Michelle Pieters